In India, budget is probably the biggest factor when it comes to cars. And 10 Lakhs seems to be the magic number for most people in India. If you're looking for a car under 10 Lakh Rupees, look no further!
With the launch of a car almost every month, buyers almost get themselves confused as to which one they should opt over the other. However, most of the cars in the Indian market fall under 10 lacs and thus it makes it more easier for a budgeted buyer.
The options are many and one just has to do a thorough comparison between the different vehicles that get launched and which one fits into your budget. Given below are the list of a few vehicles that fall under the budget of 10 lacs and have boosted sales in India.
1. Maruti Suzuki Ertiga
The Maruti Suzuki Ertiga is designed in such a manner that from the outside it appears more or less like a normal car and would not say it is a sedan. Could accommodate about seven passengers and has more space and features. The restricted dimensions makes it easy for drive and park. A good choice for a city drive and has good fuel efficiency of about 13-15 kmpl. Offered  in both petrol and diesel versions and comes in the price bracket from Rs.5.92 lacs to Rs.8.63 lacs (Ex-Showroom Price). The Ertiga gives you the luxury of a sedan and the road bump of a hatch.
2. Mahindra Quanto
This is one among the best releases of Mahindra and value for money. It is said to be the mini Xylo and provides almost all features that is available in the Xylo. The front portion is almost like a sedan, while the back portion has a new look, with a spare wheel mounted. The interiors are comfortable with ample space and has generous storage spaces. It has got a seven seater capacity of which the last two seats face each other. It offers a mileage of about 13-16 kmpl and the price ranges between Rs.6.00 lacs to Rs.7.58 lacs.
3. Skoda Rapid
Skoda has been an emblem of luxury and when there is an entry level sedan at great prices, the offer gets irresistible.  Skoda Rapid is based on the same platform as that of Volkswagen Vento , with its premium exteriors and metallic finish. Interiors have been made to enjoy all the comforts like having sufficient legroom and head space. It gives a mileage of about 12-17 kmpl and is presented both in petrol and diesel. The price ranges between Rs.6.93 lacs and rs.9.71 lacs.
4. Hyundai Verna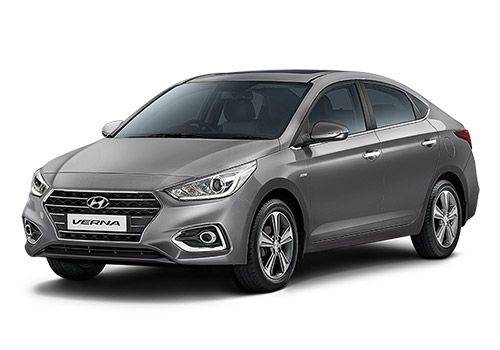 The Verna was introduced at he right time when there was demand for diesel cars and thus it became a huge success. The fluidic philosophy of Hyundai came to light through the Verna. It showcases a wide array of features and great comfortability. One gets a mileage of about 13-16 kmpl for petrol and about 18-20 kmpl for the diesel. The price ranges between Rs.7.13 lacs to Rs.11.30 lacs.
5. Renault Duster
With the introduction of Renault Duster in the Indian market, Renault has attained a good space among the competitors. This car has enough and more space to seat five passengers and is considered as a crossover make. With great ground clearance and good road presence, Duster has captured hearts of Indians. The petrol engine offers and economy of 12-14 kmpl and the diesel of about 17-19 kmpl. This car ranges from Rs.7.49 lacs to Rs. 11.69 lacs.
6. Maruti Suzuki Swift Desire
Desire comes with the most trusted manufacturer in India and thus makes it one among the most wanted sedan cars. With great number of features and comfortability, the Desire is one car that best fits for those who prefer a sedan at a lower price. It has a mileage of 23.4 kmpl. The price ranges from Rs.4.91 lacs to Rs.7.38 lacs.
7. Honda City
The latest version of Honda City has been introduced, with more features and impressive looks. With its advanced features and sharp design, Honda City has always marked a placed in the Indian markets. With a mileage of 16.8 kmpl, and efficient features, City dominates its competitors. The price ranges from Rs.7.25 lacs to Rs.10.46 lacs.
8. Volkswagen Vento
With its stunning exterior and interior looks, the Vento has been a great hit, since it hit the markets. Great comfort along with performance and great fuel consumption all together, makes Vento a car to be desired for. The petrol version provides a mileage of 12-13 kmpl and the diesel about 20 kmpl. This car ranges between Rs.7.18 lacs – Rs.10 lacs.
9. Nissan Sunny
This car, ever since it hit the markets has been in great demand. With great appealing interiors and attractive exteriors, the Nissan Sunny is a car to be looked forward to. As the advertisement in the Indian market says " It just not a car, but a ccaaaarrrrrr……." The diesel version has about 21.64 kmpl and the petrol has about 16.95 kmpl. The price ranges from Rs.5.93 lacs to Rs.8.93 lacs.
10. Volkswagen Polo
Having a sportive  look with a hatchback has made Polo a hit with the Indian markets. With great interiors and perfect spacing for about five passengers makes this one among the most sorted car. Provides fuel economy of about 12-16 kmpl. The Price ranges from Rs.4.61 lacs to Rs. 7.12 lacs.
With plenty number of cars being introduced into the Indian markets, one just have to understand one`s needs and which suits best and then go for the best deal, and get a car of your dreams.
So, which one is your favorite car? If you're planning to buy one, comment below and let me know. Perhaps I can help you get a good deal.
You might find these articles interesting