So, you're here. Nice…maybe you can start a blog like me and earn some money…or we can be friends, as well.
Little bit of background. I was born in India and completed my education there.
During this time, I developed an interest in computers. Of course, it was video games that got me there first.
But I tried different stuff, and developed a keen interest in learning how the internet worked (it was a new thing then lol).
This whole idea of me being able to sit in my bedroom in pajamas, sharing my shower-thought on a world platform, and someone sitting halfway around the globe, being able to collaborate/engage on it, just blew my mind.
I mean how awesome isn't it?
After a lot of research, I've found the cheapest way to start a blog in India – Just for Rs.150/month!! This is the cheapest, and yet, the best way to start your blog today. Most of my friends are using this offer to build their own blogs! They have a special offer also, running now. Try it for free!
So, I started tinkering with the web. Like making websites for my favorite celebs and stuff (like any teenager would do).
Fast forward to college, and I was making enough money on the side already.
That's when I stumbled upon blogging. And ever since, got hooked to it.
Today, I make around five figures in income (in US dollars), monthly. It's been a fun ride getting here.
I worked in the US and UAE for about a decade, helping companies big and small help succeed online. But I got bored and returned back to India.
Oh! I did a TEDx talk about it too. Here!
How much money do I make? [VIDEO]
If you're serious about blogging and making money from it, I suggest starting your blog on a good hosting platform. If you want a cheap host, you can use this one (costs only Rs.150/month!!) But, if you want a better host that is fast, and can deal with good traffic, I will recommend this host. It costs Rs.700 per month, but it will give you the best website! I have hosted all my websites on this host. Get a FREE trial!
Now, I blog. A lot.
I also help startups scale, and mentor few talented folks. I have my own little startup and I shuttle between US, UAE and India.
How can I help you start blogging
I can help you start blogging. Not by sharing a secret formula but by sharing my experiences.
My failures and everything I learned over the last 10 years helping others.
Like I mentioned earlier, I've worked in Silicon Valley in the USA, Middle East and India helping companies and startups champion content marketing and blogging.
I'd like to share all that experience, with you.
But before that, I'd strongly suggest you to go get your own website name.
You know, yourname.com basically!
How to start a blog in 10 mins
If you're serious about blogging and making money from it, I suggest starting your blog on a good hosting platform. If you want a cheap host, you can use this one (costs only Rs.150/month!!) But, if you want a better host that is fast, and can deal with good traffic, I will recommend this host. It costs Rs.700 per month, but it will give you the best website! I have hosted all my websites on this host. Get a FREE trial!
Whether you do something about it is a question for later. But there's no reason why someone else should grab a website name with yourname.com!
I'm lucky I had registered my own domain name (manikarthik.com) way back in 2005 or so! If I had checked today, I wouldn't have got it. Phew!
Watch this before you start a blog! [Video]
How I started blogging & How you can
After a lot of research, I've found the cheapest way to start a blog in India – Just for Rs.150/month!! This is the cheapest, and yet, the best way to start your blog today. Most of my friends are using this offer to build their own blogs! They have a special offer also, running now. Try it for free!
India is a big country and the talent we have in India is huge. Just think how many people are stuck in their 9-5 jobs working for someone else their whole life and making nothing out of it.
I had a 9-5 job back in the early 2000s and I hated it.
I used to sit in my cubicle and do my regular job. Get paid by the month-end.
Salary would be over by the first week, after paying out EMIs and stuff. Then, it's another wait for the month-end.
And I had to work on Saturdays. No family life, no fun, nothing!
And luckily I had my websites back then. Though they weren't making huge money, I used to love playing around with them.
And then I learned about blogging reading in a magazine. I was heartbroken – that I was doing something similar but making no (actually very less) money out of it.
I got started with blogging, just for fun. Started writing random articles.
Articles about music, travel, personal finance, my frustrations, and rants. Everything I wanted to share with the world.
Was there any money coming in? Yes, peanuts.
How to make money from blogging like me
I kept working for big and small companies, freelance and otherwise. But I kept my passion going on and kept blogging on the side, under the radar.
Blogging cannot make you money overnight. It takes time, investment and the right kind of nurturing. But once it starts giving you results, there's no stopping it!
I kept writing articles. Anything I could think of. Travel, Movies, Tech..everything.
Meanwhile, a long-standing client of mine, invited me to the US, to help scale their company with online marketing.
I moved to the US. There, I worked with many companies in the valley (California Bay Area and Southern California).
I worked with SaaS startups, big companies and basically everyone I could help with online marketing. It was an eye-opener for me.
I learned a lot. About content marketing, blogging, startups etc.
What did I use it all on?
You guessed it right. My blog.
Over a period of time, many articles started getting popular.
I started getting a good amount of money from my blogs. Through advertising, sales, affiliates etc.
At one point, I was making double the salary from my corporate job.
That's when I returned to India, to pursue my passion for blogging.
How I make income from blogging
It's actually not a big deal. Because behind it, is my ten years of toiling and hard work.
As they say, ten years of hard work and perseverance can make you look like an overnight success!
I don't want to stop here.
Today I help hundreds of people start blogging and teach them how to make money online from it.
I warn them – it's not going to be easy. It's not going to be an overnight success.
But if you put in a lot of hard work, use the right tools and stick to it – it is possible!
My not-so-secret formula to make money blogging
– Invest in a dependable, hosting platform like GoDaddy or WordPress. (For a fast website with no errors.)
– Invest in unique branding, design and blog theme. (To be different from other blogs.)
– Create a distinctive brand with unique content. (To stand out from the rest.)
– Create content that is useful and fun. (To create engaged users and search engine optimization.)
– Hard work and consistency. (If you're passionate about the topics you write, this is natural.)
How to start a blog in easy steps
Starting a blog is easy. Actually super easy. It only takes 10 minutes and 990 Rupees! 😀
Here are the steps.
1. Buy a hosting package or Start for FREE with WordPress.
Buy a ready-made WordPress blogging package from a reputed site like GoDaddy. (Don't buy a regular package, get a discounted deal like this one, which is available for Rs.99! Super cheap!)
Or you can get started for Free with WordPress here.
After a lot of research, I've found the cheapest way to start a blog in India – Just for Rs.150/month!! This is the cheapest, and yet, the best way to start your blog today. Most of my friends are using this offer to build their own blogs! They have a special offer also, running now. Try it for free!
2. Get the domain name Free!
If you pick the annual plan, you will get the domain name absolutely Free! (Details here)
3. Create an account with Facebook and you're done.
You have your ready-made blog ready. Now, you can choose a design and start blogging.
There is no need to spend any more money on setting up your blog. Everything is on you now. Write amazing content and bring the traffic in!
Subscribe to my videos here on YouTube, where I share a lot of helpful tips on growing your blog, how to make money from it etc.
How to start a free blog
It doesn't matter which blogging platform you choose. What matters is your long-term plan and consistency.
WordPress is the most popular blogging platform today. All my blogs are on WordPress, and there is a reason why.
It's simple to install and use.
Amazing support and community to help you get things done.
Very powerful and versatile (you'll stick with it forever).
The good thing about WordPress is that you can start your blog!
If you are new to blogging, I recommend you start for free and once you get the hang of things, move over to a self-hosted WordPress (when you get serious, of course, there is a fee for this).
Step 1 – Go to this link.
Step 2 – Fill up the necessary details
Step 3 – Get a paid or free domain name.
In this step, you can either choose a free domain name or a paid one.
If you ask me, I will recommend going with a paid domain name because,
You don't have to go through the issues of changing it later.
The paid option will get you shorter, popular names like dot com, dot in etc.
Paid options (like .com, .in etc) look professional.
However, if you wish to keep it free, you can always get a free domain name.
Step 4 – Choose a hosting plan for your blog (or keep it free)
In this step, you can choose the plan for your blog. There are both free and paid options.
Of course, the free option has a few limitations like..
No custom domain (like .com)
No live chat support.
No monetization option.
No access to premium themes etc.
I recommend that if you're serious about blogging and making money from it, go for the "Premium plan" because it comes with the monetization option.
How to start a blog on GoDaddy
Just follow the below steps.
1. Go to GoDaddy's special promotion page here. Click on the green "Get Started" button below.
2. Search for your domain name in the search box as below. This is free if you choose the annual plan!
3. Once you find your domain name, click "Select and Continue".
4. In the check out page, delete off the unwanted items and just get the domain name and WordPress site (blogging) package.
Your promotional promocode will automatically be applied and you will see the discounted price.
5. Sign up and pay – Then click on "Create Account", then "Continue with Facebook" and give your payment option (Netbanking, Debit card etc)
How to find a good design for your blog
So, if you have bought a domain name and started your blog, the next thing to do is to design it and make sure you have a good looking blog.
The good thing about WordPress is that designing your blog is super easy. All you have to do is choose a pre-built theme(design) and install it on your blog.
There are a lot of free themes available and if you wish to get serious and give a special brand identity to your blog, then you can buy a premium theme.
It would cost about Rs.1500 – Rs.4000 for a theme. Here are some examples.
Most of the themes are easy to set up and it automatically takes control of your design.
You might have to tweak a few things here and there to make your blog special and unique though.
Also read: How to choose the right theme for your blog.
10 Things to do after setting up a blog
Let's take a step back.
So, you have your brand new blog. Perhaps also good design and theme.
It's like owning the first car.
Now, what are the things you should do before you ride it in the fast lane?
Don't jump into monetizing your blog. Spent a lot of time setting it up and building some initial traction.
Here are the ten must do things the very first time you set up your blog.
1. Publish an "About Me" page
A lot of people make the mistake of going on writing stuff without actually putting a name to it.
I've been to several amazing blogs, where the content would do enticing but there'd be no or very little information about the author.
People like faces. See how I used my photos and bios all over this website? People like that.
They identify with people, not pieces of text.
So, put on some attitude and write an "About Me" page. Link to it from other pages so people read it.
Here are some examples and inspirations to creating an About Me page.
2. Publish a "Contact Me" page
So, you have a great blog. Great content.
What if someone wanted to get in touch with you?
Either publish your email on the blog, like put it on your About Me page.
But even better, publish a contact me page. The page will typically have a form and a place for people to punch in their name and email.
The good thing with WordPress is that you can easily create a contact me page with a plugin like this.
You'll be surprised how many people will email you from it, once you have amazing content published.
Here are some creative examples of Contact Me pages.
3. Choose an Audience and topic for blogging
This is super important. A lot of people just get on with blogging, writing random stuff.
Nothing wrong but, it'd be awesome if you do some thinking before doing it.
Think about what you like to write about. What is it that you always wanted to share with people.
What are you known for among your friends?
I believe that all of us have something amazing within us. It just needs some exposure to get noticed.
Blogging gives you that opportunity. To showcase your hidden talents to the world.
So, before you start writing, think about what topics you'll keep writing for the next few years, without boredom.
It could be travel, music, stocks, finance, astrology, relationship advice… whatever it is, research well.
Look at what others are writing about on this topic. See how you can make a difference.
It's all about bringing a unique voice and being helpful to people.
4. Set up your permalinks right (for SEO)
This might sound a bit technical but let me help you with it.
Permalinks is nothing but the URL that gets generated once you publish an article.
Example: This article has the following URL – https://manikarthik.com/blogging/
By default, in WordPress, this is not how your URL will appear. You can change it in settings by following these steps.
Log in to your WordPress blog. From 'Dashboard', on the left-hand side, you will see a menu.
In that menu, click on 'Settings'.
Click on 'Permalinks'.
Select "Post Name"
Now, Save and exit.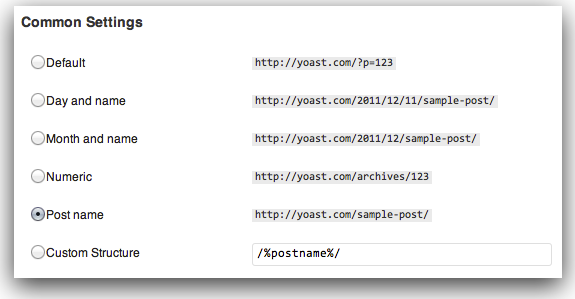 That's it.
Now, you have pretty looking URLs for your articles and not some random numbers.
These pretty URLs (like the URL of this article) is easy to remember and is good for SEO.
Via – Yoast
5. Change the Site Title, Description etc.
Once you set the URLs (permalinks as they are called) right as shown in the above step, the next most important thing to do is to set your blog name and description.
Check out this video showing instructions on how to do it.
6. Choose a logo for your blog.
I don't think you need to be told why you need a logo, right?
It's what makes your blog unique and let your visitors remember you.
I recommend creating a unique logo for your blog by using a service like Canva.
In Canva (or other free logo websites), you can create logos for free according to your liking.
Make sure you don't steal someone else's logo from Google Images. That would not be cool.
You see my logo above? I hired a designer to get it done. But you don't have to spend money on it when starting your blog.
Get a free logo, customize it and upload it to WordPress.
Here are some cool websites I use to find free logo resources.
And here is a video tutorial showing you how to update your logo on WordPress.
7. Install Jetpack
Jetpack is a service from WordPress that takes care of a lot of things in one go.
Stuff like free plugins, blog backups, premium themes, cache, page loading, plugins, SEO etc.
Of course, you can set it all up using plugins etc, but it's a lot of work and you need to be savvy enough to do it.
I recommend using Jetpack – it just makes it easy dealing with a lot of stuff in one place.
8. Delete default content
When you install WordPress, there is some default content meant to show you how things look in WordPress.
You should delete it before or after publishing other articles. One such content is the default "Hello World".
Simply go to 'Posts » All Posts' page.
Go to the 'Hello World' post and then click on the 'Trash' link.
Also, make sure you delete the default sample comment and the sample page, similarly.
Also, by default WordPress has a "uncategorized" category. Whenever you create a new post/article, this category will be chosen.
Have an idea about the kind of topics you will be writing and accordingly, delete this default category and create new categories.
Here are instructions on how to do it.
9. Set up your profile.
Setting up your profile is as important as setting up the About Us page. Because in most themes, your profile would show up beneath or next to each article.
It is also a way for users to get a quick idea about who you are at a glance.
Tp set up your profile right, go to "Users » Your Profile" from the left hand menu.
Ok, I'm gonna assume that you have some awesome content and articles in the making.
Now, how do you tell the world that you have a blog?
How do people who visit your blog share it to their social networks?
Via social media, isn't it?
Now, adding social media to your WordPress blog is easy. All you have to do is choose a good plugin.
Here are some of the best social media sharing plugins for WordPress.
How to start making money with your blog
This is the most important question, isn't it?
How to start making money from blogging. Well, there are few different ways you can start earning money from your blog.
But before going into any of those, make sure that you have the following ready.
A great design for your blog.
At least 25 articles published.
Minimum 200 unique visits to your blog monthly.
I insist new bloggers pass these milestones before thinking about monetization.
Otherwise, when new visitors come to your blog, it will look an amateur blog. Some Ad networks like Google AdSense declines websites that don't look good and don't have minimum traction.
Hitting the above milestones will ensure that your blog is ready for monetization.
If your blog has achieved the above milestones – Congrats! You are now ready to monetize your blog and make money from it.
Following are the steps to make money with your blog.
Sign up for Google AdSense.
Sign up for Affiliate networks.
Open up your blog for guest blogging.
Don't start blogging just for making money. If money is your motivation, you'll soon be bored of it.
How to make money with Google AdSense
Step 1 – Sign up for Google AdSense
Once your blog has hit the above milestones, you are now ready to apply for Google AdSense.
Keep in mind that Google doesn't recommend anyone to start blogging just to make money.
Instead, start blogging because you are passionate about sharing information. Because you are passionate about a topic. Say astrology, cryptocurrency whatever…
And I think it's a great recommendation.
A lot of people who start blogging, look for monetization options too soon, too early.
Take your time to ensure that you build your blog properly, before looking at monetization. Once ready, here's what you have to do.
Go to https://adsense.com and Sign up with your Gmail id.
Click on the "Sign Up Now" button and you will get to this screen. Give in the information as typed below.
Once on the next page, make sure you verify the information and choose the country where you will be receiving the funds to. Example, where your bank account is located. This is important because it will be very difficult to change this later.
Once you give your website and country details, the next page will show you some "quick start" tips from Google.
Basically, some overall information about what Google AdSense is. Go through them and skip "Next".
Next up, you need to give your payment address details.
At this step, make sure you sign up with original address and contact details, because this is very important for communicating with you. Including sending you cheques and other payment material.
In the next step, you will get a code snippet that you need to copy paste to your blog. Here are detailed instructions on where and how to copy paste this code.
Things to keep in mind while signing up for AdSense
You will only get paid once you reach the $100 threshold.
You will need to provide your PayPal or Bank details in order to get paid.
If your website doesn't look "real", your application might get declined.
Make sure you have at least 25 good articles on your blog before applying for AdSense.
Make sure you have a good looking theme before you apply for AdSense.
Make sure your website complies to the terms and conditions and AdSense policies as mentioned here.
Overall, my advice is that don't be hasty with AdSense.
Don't expect to make money soon after you place AdSense ads. No, it will take time for Google to figure out relevant ads to place on your site.
Once relevant ads show up, it is up to your users to figure out whether they are valuable or not. Once they click on ads, you will start seeing your earnings on AdSense dashboard.
P.S – NEVER ask or encourage friends and family to click on ads. NEVER click on ads yourself. DO NOT do anything that will artificially generate create clicks on your website. This is against AdSense terms and conditions and will result in your blog getting banned from AdSense program. Once this happens, you will most likely, never be able to get back to Google AdSense program. So, please be serious and don't do anything "too smart". You know what I mean.
How to make money with Affiliate Marketing
Affiliate marketing is the secret to making money online blogging. First, here's how it works.
You promote a third party product that you trust and recommend to your readers. When a reader buys the product, you get paid a percentage commission of the price of that product.
Affiliate marketing is more valuable than advertising because the earning potential is huge. When you get paid only a few cents or dollars per click in advertisements, Affiliate sales will give you more money.
But at the same time, you need an active audience and a good reputation to become an affiliate.
People don't buy everything you recommend. They are intelligent and make their own decisions.
So, the conversion ratio is not that high with Affiliate marketing.
I recommend that you build an active audience and traffic before trying affiliate networks. That way, people will trust and try out your recommendations.
Here are the best affiliate networks in India.
To start off, you should sign up with affiliate networks like the ones mentioned in the above article.
Second, you should find products that you can sell. For example, if your blog is on Astrology, find products from the affiliate network based on Astrology that your readers might like.
Third, apply for an affiliate relationship with the product (usually has an approval process) and get approved.
Once approved, you will get links, image banners etc (promotional materials) that you can use to promote their products on your blog.
Once someone clicks on the link, visit the third party site and buys the product, you will get the promised percentage commission.
You may not get paid immediately, but the Affiliate network will keep track of your commissions and once the threshold is reached, you will get paid, either through a bank transfer or cheque.
Affiliate networks will give you detailed statistics of clicks from your promotional material, sales originated from those clicks and also the commission earned.
Build an audience before recommending affiliate products. Choose products that will solve a problem for your readers.
Other ways to make money from your blog
Even though Advertisements and Affiliate marketing are the most popular methods of making money from blogging, there are other lesser known methods as well, one could try.
Here are some of the lesser known ways to make money from your blog.
Offering guest posts
A lot of bloggers and companies are looking to build links to their sites for SEO purposes. They are always on the look-out for good quality blogs that can write about them, their products and services with a link to their websites. And they are willing to pay for the link as well.
Guest blogging is a process where you allow other writers to contribute content to your blog. You get free content, and the writers get a chance to add links to their websites from your content.
Once your blog becomes popular, a way to make money from it is by opening it up for guest blogging.
I won't recommend you do this right from the start though. One, it'll be tough for your to find good offers because they're all looking for established popular blogs. Two, even if you get an offer, it won't look nice on your blog writing guest blogs even before finding an audience.
So, wait for this option. Let your blog grow and make itself heard first, before opening it up for guest blogging.
Warning: Do not go overboard with guest blogging, as it poses a quality risk to your website, if there's too many guest posts.
Selling private advertisements
If you have a good audience, there are companies who might find it interesting to engage with them.
Private advertisements are those ads that a company/product sources directly from the blogger.
Once your blog achieves a targeted audience, opening it up for advertisements directly from companies is a way to earn some revenue.
What you need to do is sign up for an advertisement platform like BuySellAds or use a WordPress plugin like this to manage the ads.
Selling your services
Another way to make money from your blog is to use it as a platform to sell your services.
For example, if you are an attorney or advocate, you could blog a lot about legal advice on various matters and offer a premium consultation service for those who need one on one consultation.
This is a very reputable and high potential way of making money online because, you decide the payment rates and terms. Perhaps one such consultation gig can pay off really well, compared to clicks from advertisements.
However it is important to build a reputation with your blog, before beginning to sell your services.
Tools & Devices I use for blogging
Whichever profession or work you do, you need proper tools that will help you work smart and effectively.
I'm of the opinion that instead of going cheap and finding ways to do things for free, one need to see the value in your investment and effort, so that you get the same value back.
Of course, there are many free ways of doing things, but honestly, there is no free lunch. If you need to get value out of what you do, you need to provide value. Invest in good tools.
Here are some of the tools and services I use for blogging. I'm proud to recommend them to others as well.
I use a MacBook pro for all blogging needs. I've used Windows laptop previously as well (as seen in pic) and actually use them once a while, but MacBook is my constant companion.
The reason I use a MacBook is because of the reliability. It never hangs. Is super easy to use and is always fast and never slow. It feels like I can depend on it and it's very strong.
I think Google Chrome browser is the best "software" out there for blogging. All that you need for blogging. Everything is online and I don't need any software installed locally on my computer.
If at all something happens to your computer, you can sign in to Google Chrome from another computer and all your data is still there. Lets me work from anywhere.
I don't think the real estate on my laptop is enough for me to work. I always have some 20+ tabs open in my Chrome browser always. For accommodating all of it, you need larger display. So, I got this large display from Dell and always plug my MacBook to it.
I'm a sucker for music and I mostly listen to ambient music and stuff like that when I work. And for this, I use these tiny yet powerful desktop speakers from Bose.
Gmail and WhatsApp are my choice of tools for communication (even for business purposes). I've tried everything from paid apps to free ones, and prefer to stick with simple tools. Gmail and WhatsApp are such.
For pictures and stuff for my blogs, I always use my iPhone or the Sony Alpha 6500. It takes 4K pictures and shoots in 4K video.
How to find topics to write about on your blog
Once you have your blog setup, now it's time to find out what to write.
I assume you'd already have some kind of idea about things you want to write about, things that you're passionate about.
My recommendation is that you follow your passion. Find out what you are really good at. For example, what are the things that you can share with people that will add value to their lives?
Find it out. And start with it.
Ask yourself these questions.
What are the topics that you can talk about without getting bored?
How can you provide value to others?
What topics do your friends and family think you are good in?
This will help you find some topics that you can get started with immediately. It's what's inside of you and don't need any further education.
But you need better direction going forward. Like a set of topics for your blog that you want to be known for.
Say you find travel interesting. Then that's your category. But, there's a problem.
Everybody has been blogging about travel already. What can I do now? Am I not late?
That's a great question. But here's how I see it.
The secret is about finding something unique to say. A new story. A new angle.
Agree that there are many websites about Travel. But not everyone can write about everything. Can they?
Also, what about your state? Your locality? There may be something unique there, isn't it?
So, narrow down and find something unique you can write about. Within Travel, not everybody needs to write about the Taj Mahal. But there are places that nobody knows about perhaps in your locality. Write about such places.
You get the point right? Put some effort into finding stuff that nobody has written about. Then use it to your advantage.
There are some tools too that you can use to find out what topics people are searching for on the internet.
Let's talk about them in the next section.
How to find what people are searching for on Google
So, you already know that you get traffic/visits from Google if you have content on your site that people are searching for.
For example, let's say somebody was searching for "Red apples in Shimla" on Google.
Let's say you have a blog about Shimla and there's a page about places in Shimla where you can find "Red Apples".
If you have great content on that page and it is optimized (SEO – we'll talk more about this later), then Google will show your website on the search results, for that user.
When he visits your website, it is counted as "one visit".
Now, your job as a blogger is to find out what people are searching for on Google (related to topics of your interest) and write about them if you have information to share, so you can actually help them out.
In the example mentioned in above section, say you have a blog about travel in Shimla, then you should know what everyone is searching on Google about Shimla, so you can write about it.
Let's look at some tools that you can use to find out this data.
Google suggestions are probably the easiest way to find out what people are searching for on Google for a particular topic. For example, if you want to find out what people are searching for on Google about Shimla, simply go to Google and type in "Shimla + something relevant" (Ex: "Shimla things to do").
Then scroll down to the bottom where Google will display the search terms people searched for related to it. (See screenshot)
Also, just before the "Related searches" section, there is another section that says "People also ask".. (See screenshot)
In this section, Google will tell you what other questions are people asking Google, related to the core topic (in this example, "Shimla things to do")
Now, that is a list of blog articles you should be writing, right?
2. Free tools to find topics to blog
The above Google "Related Searches" tool is probably the best free tool out there to find out what topics to blog about. But there are several other free and paid tools that lets you get a lot more information from search engines like Google on large scale.
These are useful when you want a lot more content topics than a few from manual search (like mentioned above with Google Related Searches). Let me list down a few I've used here.
How to create an audience for your blog?
Once you have started writing, the first question that'll come to your mind is how to find an audience for your blog.
I mean, there's only so much you can do by inviting your friends and family. There are certain strategies and tools involved here, that will help you create an audience.
Remember, more than the tools, it is consistency that matters. You can only create an audience with time, not overnight.
Creating an email database is a great way to build audience. You can send updates whenever you want to all of your audience via email. The only problem is that your content should be relevant to your audience and never spammy (useless) or else people won't read it and your "delivery rate" (number of email sent/number of emails read) will be low.
I use emails a lot in my blogs but don't over do it and use smart tools to make sure that the emails are high-quality and relevant.
MailChimp – Most popular email client that lets you send email campaigns to your blog readers.
Bloom – This is a WordPress plugin that lets you easily create popups on your blog that'll fetch user's email address.
Lead Pages – Let's you easily create landing pages.
Social media is today the fastest way to get traffic to your blog. Provided you have useful, share-worthy content, then getting traffic from social media is easy.
What I would recommend is that you create separate profiles and pages for your blog on all socialmedia so that people can follow your blog there.
For instance, make sure that you create a page on Facebook, a profile on Instagram, a profile on Twitter at least. There are other social media channels like the ones mentioned below. You could use them as well.
Facebook Page – Creating an FB page is easy. But not all likes will convert into website traffic.
Twitter – Twitter is an amazing social media tool that can give you lot of traffic, if used properly.
Instagram – Instagram is a photo driven social network that can give a lot of traffic, if executed well.
Special Mention – Buffer: Buffer is a free to use social media scheduling tool that saves you a lot of time by letting you schedule social media posts on various networks ahead of time.
Now, let's answer some frequently asked questions. Shall we?
Can you make money blogging from India
Of course you can. There are several people who are making money online from blogging in India. Many of them make thousands of Dollars every month just from blogging. However, there are serious bloggers who write content consistenly, constatly provide value through their blogs and have an active reader audience. It took them many months to reach where they are at and almost none were an overnight success.
Here is a list of bloggers from India. Here is another directory of Indian bloggers ranked. Some of them are hobby-bloggers and some of them are professional bloggers.
Blogging in India – Does it work?
Just the way it works everywhere else. You build a blog, write content, gather a good readership, make money suggestin them valuable products and services. Just that, the products and services you can sell through your blogs will be limited to India (mostly). Also, blogging is only getting mainstream attention slowly, so this is a good time to invest in.
How can you get paid from blogging
This depends on the ad-network or monetization method you use. For example, if it is Google AdSense, then they can send the money directly to your verified Indian bank account. If you are working with an affiliate network, then they can also wire you the amount to your bank account or send you a cheque or pay you via PayPal. There are several such options and most networks are flexible with payment.
For beginners, using PayPal is an easy way to get started with getting paid. Those in India, can get a Free PayPal account here. (You will later need to link it with your KYC verified Indian bank account in order to get paid.)
Where to find work from home jobs
There are many work from home jobs available in India. Blogging is one such proven method. But other than blogging, there are many. I've covered some of them here – Best work from home jobs in India.
How long will it take to make money from blogging
It depends on your niche, blog popularity and commitment. I've seen blogs make money right from the 6th month through AdSense, and also have seen blogs struggle until the second or third year until they started to make money.
General thumb of rule is that, if you have an active audience and search engine traffic, you are ready to monetize. I don't recommend monetizing your blog early on, before gathering traffic.
Which is the cheapest hosting in India
After a lot of research, I've found the cheapest way to start a blog in India – Just for Rs.150/month!! This is the cheapest, and yet, the best way to start your blog today. Most of my friends are using this offer to build their own blogs! They have a special offer also, running now. Try it for free!
Here are some of the cheapest blog hosting companies in India, you could consider (I'm not endorsing any).
GoDaddy
Host Gator
Web Hosting Pad
In Motion Hosting
Fat Cow Hosting
iPage
Ever Data
Big Rock
Cloud Ways
A1Hosting
Hostinger
SiteGround
If you're a beginner looking to start quickly, without having to deal with technical stuff etc, here are the best hosts to start blogging.
GoDaddy (Cheap & easy to get started)
GoDaddy is probably the cheapest website platform you will find (About Rs.500 or less). A well-balanced host that is both economical and easy to use. You don't need a lot of technical know-how to get started with it. Just buy a starter package and let it grow gradually. Their support team in India is also very responsive and helpful.
---
Cloudways (Recommended)
Cloudways is an economical web hosting company that offers flexible "pay as you go" type WordPress blogging plans. Their setup process is extremely simple and you can actually have a blog running in under a couple of minutes. They have an amazing support team as well.
---
Kinsta (Top notch service!)
Kinsta is a top of the line, high-end technology website hosting company that offers you the most responsive and fastest servers to start your blog. It is slightly expensive when compared to other hosts, but that's because their servers are top quality and is probably the gold standard in blog hosting.
---
BlueHost (Not a great experience)
BlueHost is another economical blog hosting company that has a very straightforward process to set up a blog. However, I've found that their support is probably not the best out there and it can get expensive when you grow your blog.
---
SiteGround (Great for beginners)
SiteGround is a Bulgaria based blog hosting company that specializes in creating super-fast WordPress blogs. Their technology and servers are optimized for blogging and their set-up process is also smooth. However, I feel it can get complicated and needs some technical knowledge.
---
What is the easiest way to start a blog?
The easiest way to start a blog in India, is to start a free blog on blogger.com or wordpress.com as both are free.
What is a blog?
A blog is a series of articles published by an individual organized in reverse chronological order.
How to create a blog?
You can create a blog easily by signing up on a free blogging site like Blogger.com or WordPress.com. For serious bloggers, you can create a blog by installing a stand alone WordPress software on a webhost.
How to earn from blogging?
You can earn from blogging using ways like advertisements, sponsored articles, affiliate marketing, guest blogging etc.
How to create a blog on WordPress?
There are two versions of WordPress. The free version and the paid version. You can easily create a blog on WordPress by signing up on WordPress.com and answering a few questions. Here are the steps to create a blog on WordPress.
How to make money from blogging for beginners?
Beginners can make money from blogging by creating a blog, publishing valuable articles, generating traffic and using it to generate revenue using ways like Google AdSense, advertisements etc.
Where to write a blog?
You can start writing a blog for free on WordPress.com or Blogger.com. You can also get your own blog on paid blogging platforms like this one.
How to start your own blog?
You can start your own blog in two steps – by getting your own domain name and a blog host. This will let you have your own website name and your own blog in that name. It will cost you around Rs.1,000 to start your own blog.